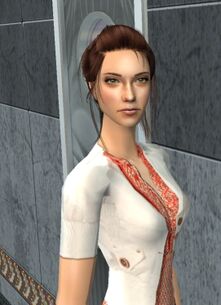 Name: Peggy Josephine Brooks
Age: She refuses to disclose it (probably mid-30's)
Ethnicity: Irish-German descent
Place of Birth: Ashley Oaks, Texas
Hair: Brown
Eyes: Hazel
Marital Status: Widow
Children: Cody
Peggy was the city secretary of Ashley Oakes, TX before the zombies rose.
Peggy has always done exactly what she wants from the time she was a kid. She's opinionated, bad tempered at times, but also a good, loving soul.
Educated at a small community college, she became the city secretary after Rosie De La Torre retired. Before the zombies rose, she was miffed by the appointment of a city manager; a move she thought was to oust her.
Though she always enjoyed gossiping and grousing about the citizens of Ashley Oaks, she honestly liked many of them and the death of the town hit her very hard. Her way of dealing with the disaster is to throw herself completely into maintaining the fort and making sure every one's needs are taken care of.
She can be very bossy and sometimes hurtful in her opinions, but she is truly trying to do her best for everyone. What no one really understands is that beneath her tough exterior, she is quite terrified of the zombies. She never steps outside the fort once the walls are built.
Images of Peggy