About
Name: Kathleen Mathilde Kiel (Katie)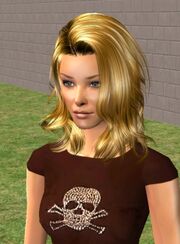 Age: 34 (at beginning of first book)
Ethnicity: Norwegian Descent
Place of Birth: Kileen, Texas
Hair: Blonde
Eyes: Green
Marital Status:Widow (wife, Lydia)
Children: None
Biography
Katie is one of the two lead female protagonists in the AS THE WORLD DIES ZOMBIE TRILOGY. Katie is strong-willed, ambitious, and passionate when it comes to doing the right thing. The daughter of a teacher and a former marine turned police officer, she is highly educated and very athletic. She was a prosecuting attorney before the world died.
Before the zombies, she was in an openly lesbian marriage with Lydia, the love of her life. Her wife's loss devastates her, yet steals her resolve to help others survive the zombies. She is very focused, self-disciplined, and tends to be the calm voice of reason in high stress situations. She is slow to anger, but can be quite blunt. Completely trusting her instincts, she forms fast and firm relationships. She is always pro-active and does not like to sit idly by.
A bisexual woman, she finds Travis' instant attraction to her difficult to deal with after the loss of her wife. She finds her own attraction to him even more difficult to come to terms with.
Additional Images