Name: Juan De La Torre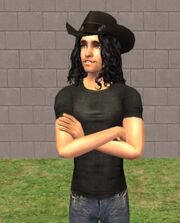 Age: 28
Ethnicity: Mexican-American
Hair: Dark Brown
Eyes: Green
Marital Status: Divorced
Children: None
Juan is one of the two male leads in the AS THE WORLD DIES ZOMBIE TRILOGY.
An easy going fellow, Juan takes life as it comes and loves to laugh. He is also a sarcastic guy with a dark sense of humor at times. He's a tall, muscular cowboy with a thick West Texan accent. He falls easily in love and was once married while living in Houston.
Juan is one of the major planners of the fort in Ashley Oaks once the zombies rise. He is also a huge zombie genre fan and is not always happy when the zombies break what he sees as sacred rules.
Divorced, he returned to Ashley Oaks to be close to his father who was dying of cancer (and passes away before the zombies come). He is very vocal when he doesn't agree with a decision and has no trouble speaking his mind. He is very devoted to his mother, Rosie, and cousin, Monica, and takes his friendships seriously. Though he is pretty easy going, he can anger easily
Additional Images