About
Name: Genevieve Maria de la Lourdes Sanchez Williams Blakely (Jenni for short)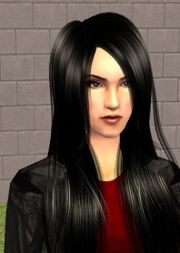 Age: 29 (at beginning of first book)
Ethnicity: Mexican-Irish Descent
Place of Birth: Laredo, Texas
Hair: Black
Eyes: Very dark brown
Marital Status: Widow (husband, Lloyd)
Children: Benjamin (deceased), Mikey (deceased) Jason (stepson)
Jenni is one of the two female protagonists in the AS THE WORLD DIES ZOMBIE TRILOGY.
Biography
Jenni is charismatic, outgoing, quick to temper, but eager to please. Sadly, this has been corrupted over years of abuse. Jenni suffers from severe post-traumatic stress disorder and tends to disassociate from reality when overwhelmed. To function as normally as possible, she tries very hard to distance herself from the life she had before the zombies, which means not properly mourning the loss of her children. Her pain and anger is directed at killing zombies, which she becomes quite adept at doing. Despite her obvious issues, she's loving and dynamic and creates strong friendships with those around her as she tries to become a new Jenni in the dead world.
Jenni is a central figure at the fort.
Addtional Images