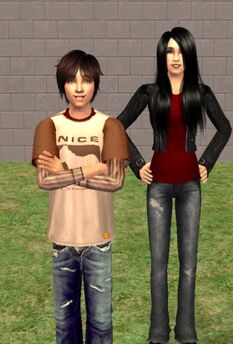 Jason Blakley
Age: 15
Place of Birth: Houston, TX
Hair: Brown

Eyes:Brown

Family: Stepmother, Jenni Blakley

Pet: Jack, the German Shepherd

Jason was your average moody teenager before the zombies rose. His father, Lloyd, was extremely abusive to his stepmother, Jenni. Though he had originally lived with his mother, after she died he moved in with his father and his new family. He is away at camp when the zombies destroy his family and is later rescued by Jenni and Katie.

He loves his stepmother completely and worries about her. He fears that in her desire to disassociate from her very painful past, he'll lose her.

Though he is mourning his family, he is also proactive in protecting the fort. Frustrated by the lack of weaponry, he tries to construct ways of killing off the zombies. He leads the fort's children and is often seen with Michelle, a teenage girl his mother rescued. He gets along well with Curtis and other adults in the fort. He is brilliant at math and apprentices with Calhoun on some of his defense weapons. He's been called the fort's "John Conner."