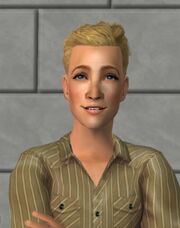 Name: Curtis Schmidt
Age: 20
Place of Birth: Fredericksburg, TX
Ethnicity: German Descent
Hair: Blonde
Eyes: Blue
Marital Status: Single
Children: None
Curtis is very young and naive in many ways. He was raised very religious and very conservatively by his family. Being the youngest, he was sheltered a lot.
He became a police officer in Ashley Oaks because he wanted to prove to himself and his family that he wasn't a big ol' mama's boy (something his older brothers and dad taunted him about). He was the only surviving police officer of the small force after the zombies invaded Ashley Oaks.
He is a very "by the book" sort of person and it is very hard for him to bend or break rules. He doesn't often understand the compromises that are made by the leadership and it causes him to be frustrated. He is regarded as a sweetheart by most of the people around him and is coddled a lot by Peggy.