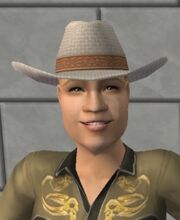 Name: William Bellamy (Bill)
Age: 40's
Place of Birth: Ranger, TX
Ethnicity: German-Czech Descent
Hair: Blonde
Eyes: Blue
Marital Status: Widower
Children: None
Bill is the guy that everyone likes and considers to be a friend. He has a robust laugh, a great smile, and a gentle manner despite his size. Most people would describe him as a big ol' teddy bear. That being said, when it comes to enforcing the laws of the fort, he will stand up and do it. He doesn't back down and takes his badge very seriously.
Bill is haunted by the death of his wife, Doreen, from cancer, but he is glad she died before the zombocalypse. He always wanted a family with her, but it was never possible due to her long battle with cancer. From his demeanor, it is obvious he would have made a great dad.
Because of his personality, he is close to a lot of the major players in the fort and considers Travis to be one of his best friends.