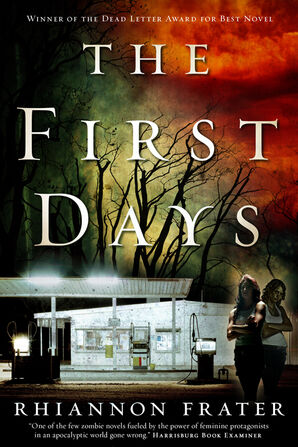 Synopsis
The morning that the world ends, Katie is getting ready for court and housewife Jenni is taking care of her family. Less than two hours later, they are fleeing for their lives from a zombie horde.
Thrown together by circumstance, Jenni and Katie become a powerful zombie-killing partnership, mowing down zombies as they rescue Jenni's stepson, Jason, from an infected campground.
They find sanctuary in a tiny, roughly fortified Texas town. With almost no hope left outside the walls, Jenni, Katie and Jason must find sanctuary inside the Fort, less they succumb to the horrors of the outside world.
Fast-paced and exciting, filled with characters who grab your heart, The First Days: As the World Dies is the beginning of a frightening trilogy.
Release Dates
Self-published paperback - August 14, 2008
Trade paperback - July 5, 2011
Mass market paperback - October 30, 2012
Covers
Author Note
The first book was born out of a powerful image that flashed into my mind one day at work. It was of Jenni standing on her porch staring down at the bottom of the front door. Pressed under the door, trying to reach her, were the grasping fingers of her zombified little boy. During my break, I quickly wrote "Tiny Fingers." At first I thought it was just a short story, but after readers positively responded to the post and encouraged me to continue, I realized there was a whole lot more to the story.
And that was how the series was born.